ATHENS

THE SILVER TOUCH: A shiny metal cap and pump adorn this streamlined PP airless dispenser. A metal-free fluid pathway keeps product pure, while an in-mold frosted finish
adds cost-effective flair. Great pairing with our Pure or Agate Series Jars.
IN STOCK Fill sizes: 15, 30, and 50 ml.
Learn More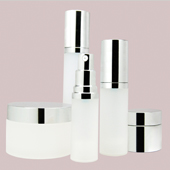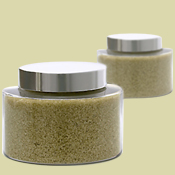 OASIS
SIMPLY STRIKING! Designed for bath and body products, this heavy-wall jar is made from shatter-resistant PETG. Available clear or frosted.
IN STOCK Fill size: 120, 180, 240, 360ml. Shown with Prairie metal closure.
Learn More
DIANA

PROMOTING PRODUCT PURITY. A metal-free fluid pathway provides the ultimate product protection. Suited for viscous formulas. Double-wall design gives this dispenser a look of substance. A PP dust cover is included.
GCMI neck finish: 24/410. Silver, Matte Silver, Gold finishes available IN STOCK.
Learn More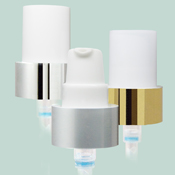 TAURUS

Modern apothecary: The hinged lid on this clear, lightweight, shatter-resistant PET jar lends bath and body products sophisticated style.

Fill size: 420, 570ml.
Learn More

VIRGO

Clearly stylish: A subtle taper gives this clear PET bottle new shape. Lightweight and recycle friendly. Shown with silver-banded matching cap.

Fill sizes: 120, 200ml
Learn More

PEARL

Subtle shine: A metallic pearl finish makes this PET bottle extraordinary. Lightweight and recycle friendly. Available with numerous dispenser and cap options.

Fill size: 90, 120, 180, 280 ml.
Learn More
Custom Fitted IMAGINE THE POSSIBILITES!

Make a statement with packaging that delivers your unique brand message. These new designs allow you to create a customized look that's all your own. At Cospack, our job is to help your brand--and your packaging--stand out from the crowd.



LAGUNA Airless Dispenser

Distinctively modern: A streamlined shape evokes modern elegance. A metal-free fluid pathway in the pump keeps your product pure. Bottle, pump and cap can be customized through color matching, spray coatings and a host of other decoration methods to create your unique look.

Fill sizes: 15, 30, 50 ml.
Learn More

BOMBAY + HILO Airless Jar & Dispenser

Doubly modern: A double-wall design and airless technology combined, offering the latest in style and function for this matching pair. A wide range of customization options is available to make this packaging uniquely yours.

Bottle fill sizes: 15, 30, 50 ml. Jar fill sizes: 30, 50 ml.
Learn More

BOLD HDPE Bottle

Style, Squared: This versatile bottle can be customized in a metallic or soft-touch finish. A four-sided "canvas" allows for unlimited design possibilities. Wide range of dispenser and closure options. Matching jars are also available.

Fill size: 240, 300 ml.
Learn More